What is the Distribution Intensive?

The Six Month Distribution Intensive is a weekly, six month immersive program led by distribution innovator Jon Reiss. In an intimate cohort of up to ten film teams, you will learn how to navigate the distribution landscape and create the best path to release and market your film. The Intensive consists of presentations by Jon and other noted experts in the field, hands-on discussions, feedback on your film and marketing materials, and one-on-one sessions with Jon to develop a concrete actionable plan to distribute your film.

"Jon taught me not to fear distribution, but to instead tackle the beast head-on, with creativity and passion. If you fell in love with a story, there are others in the world who will respond to this love, even if you have to make your own path to find your people."


Rodriges Reyes,
Lupe Under the Sun, Sansón and Me
What is included:

The Distribution Intensive is rooted in weekly meetings, led by Jon Reiss (that's me!) including:
Twenty Weekly Cohort Meetings including a combination of the following:

A presentation by Jon Reiss or visiting experts on a specialized topic with a group discussion on that topic.
Ask-Me-Anything sessions peppered throughout the schedule to talk through whatever burning questions are on your mind.
Group Feedback that will include custom reviews by Jon Reiss for each team on their strategy and marketing materials.
Three total hours of private One-on-One Consultations with Jon Reiss where we go deep into your project specifics to formulate a customized distribution strategy.
Private access to Instructional/Support Documents and Templates that delve into the presentation topics.
All Lectures, Discussions, Ask Me Anythings and One on One Sessions will be on zoom and recorded. They will be available to each team for 6 months after the duration of the program. Note 1x1 Sessions will only be viewable by the participating team.
During the Intensive I Will Work With You To:
Distribution
Demystify the distribution and marketing landscape as it stands today.
Have a clear sense of your goals for your release.
Position your film within the current independent film distribution and marketing landscape to meet your goals and work within your resources.


Understand sales possibilities for your film in today's market, identify the best distribution partners and negotiate the best possible deal.


Execute proper windowing of events (festivals, community and theatrical) and VOD/broadcast/educational.
Book effective community, theatrical, educational and virtual screenings and understand which type of screening is right for you.


Build a distribution team to help you with your release and the most cost effective ways to hire them.

Audience Building
Know how to build the audiences for your film's release.
Develop long-term audiences for multiple projects including proper development and use of an email list.
Use the latest methods for leveraging organic and paid social media to market your release.
Marketing
Build strategic partnerships with local/national orgs and create synergy between your impact and distribution plans.


Raise your film's profile through press, organizations and influencers and how to work with a publicist to maximize press impact.

Understand elements of successful marketing materials (key art, trailers, pitch deck, etc) and receive feedback on your own marketing materials including copy, press kit, key art, trailer, website.
Elevate your career as a filmmaker through your film's release.
"I was lucky to first encounter Jon Reiss at IFP Filmmaker Labs while I was still editing my film. I took dozens of pages of notes during his workshops on outreach and distribution which framed the distribution choices I made for Hooligan Sparrow. Jon gave me invaluable strategic counsel on how best to execute a theatrical release that would best serve my film, my goals and my budget. The release triggered great reviews and we ended up on the short list!"

Nanfu Wang, Director,
One Child Nation and Hooligan Sparrow
"Working with Jon Reiss and 8 Above was an amazing experience. I learned so much from working with them that it has changed my entire thought process about film distribution."

Bob Hercules, Co-Director,
Maya Angelou: And Still I Rise
How Much Does it Cost?

The cost of the six month Intensive is
$600 a month or $3300 if paid in advance
.
This includes:
Twenty Weekly Cohort Meetings
Three hours of private team consultations. Check the FAQ for specifics.
Private access to Instructional/Support Documents and Templates
Got a co-director or producer? No problem. The cost includes up to two people per team.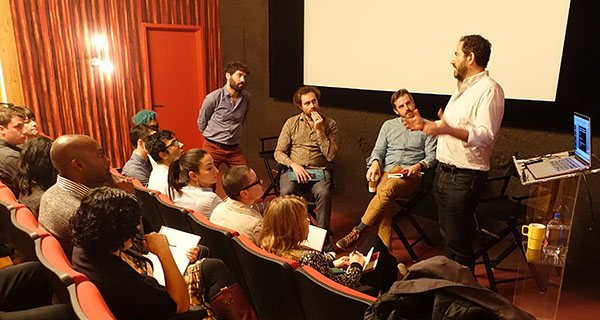 "There are few consultants, in any field, who are primarily motivated by love — but in Jon's case, it clearly his love of film that motivates him to do his work. This makes him a passionate, invaluable resource for filmmakers looking to find their audience."

Jeffrey Kusama-Hinte, Producer
The Kids Are All Right, Thirteen, Laurel Canyon

The Fall Cohort is Now Full - Apply for the Winter/February Cohort: