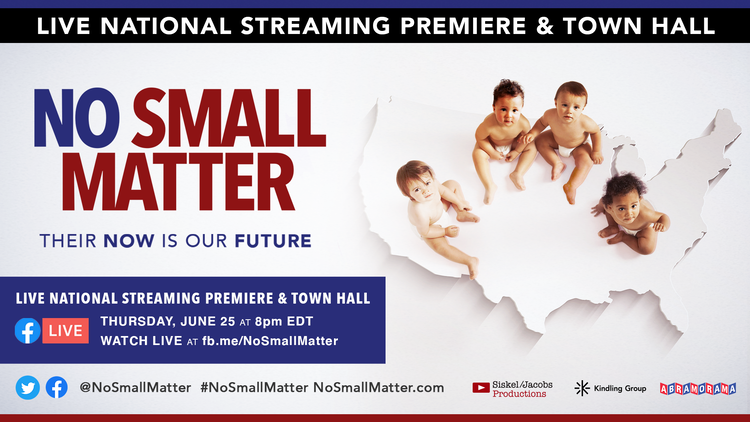 No Small Matter Covid-19 Pivot - Global Screening Event

Since last fall I have been working with the team behind No Small Matter (directors Danny Alpert, Greg Jacobs, Jon Siskel, producer Rachel Pikelny and impact producer/co-producer Laura Fallsgraff) to create a national event to cap their incredible impact focused grassroots campaign that had already resulted in over 1200 community screenings. This massive campaign had been orchestrated by Fallsgraff, Siskel, Jacobs, Alpert and their teams at Siskel/Jacobs and Kindling Group. (The impact campaign is notable for how early and extensively they started working with partners - more in a future post). No Small Matter is a feature length documentary designed to bring the issue of quality early-childhood education to the top of America's political agenda. Illustrating the immense impact that the first few years of life have on a child's development, and the huge benefit that improved early childhood education will therefore have on America's economic and social future, No Small Matter is a heart-wrenching, comedic, and sobering window into the lives of America's youngest citizens.

Originally, the plan had been to work with Abramorama to create a national theatrical release as a way to help the issue penetrate the media landscape as well as help launch the film on VOD through Passion River. We were slated for a March 27th NYC theatrical launch, followed a week later by Washington, D.C. (combining a DC influencer screening with a theatrical) and then going wide to over 50 theaters in the weeks leading up to a mid-April VOD release (eg day-and-week/month). We had planned a number of tentpole events that would have broad appeal panel discussions with widespread organizational support. Many more theaters were organizing with local groups to create special events as well. But then, as we know, Covid-19 hit and we were one of the first films to cancel/postpone our release.

More than a "bummer" (or inconvenience) for the release of the film, the pandemic quickly revealed itself as a crisis for early education in the U.S., a sector which was already on thin ice. "America's early learning infrastructure was fragile even before COVID-19," co-directors Danny Alpert, Greg Jacobs, and Jon Siskel stated. "But the pandemic has pushed it to the brink of collapse. Half of all child care sites have been shuttered, and thousands may be forced to close permanently in the next few months. With no other option but to stay home with their kids, millions of parents will be unable to return to their jobs, paralyzing efforts to restart the economy. What the pandemic has made painfully apparent is that America simply doesn't work without child care."




To respond to this urgent situation, we huddled with Abramorma in April to determine what could both replace the theatrical release and call attention to this problem. It was important to the filmmakers to retain the discussion around child care that the initial theatrical intended to foster. Richard Abramowitz and Karol Martesko-Fenster proposed a one time national digital event screening followed by a town hall with prominent thought leaders on the issue streamed live on Facebook (and cross posted on YouTube and Twitter). The event would not only draw national attention to the issue, but would help launch the broader release of the film to the public on VOD and DVD (yes people and libraries still buy DVDs). In addition we would see if theaters who had originally programmed the film back in March would sign on for a virtual theatrical run day and date with the VOD launch.

Shortly after deciding on this plan the NSM team thought up the idea of starting the night with some children's programming — The Virtual Yellow Room, named for the classroom featured in the film — as a "bed-time" activity before the film that might help parents watch the show.

Karol from Abramorama notes that "this is the first time that there has been an enterprise level international live stream at 1080p to a feature documentary's Facebook page, cross-posted on FB to multiple early childhood organizations and simultaneously streamed to multiple Twitter destinations. The 30+ FB cross-posting organizations and the Twitter destination accounts greatly magnify the reach of the live stream. While that is a first - it is also a first to combine that release with a kid centric 'Virtual Yellow Room,' followed by a live panel discussion and to have a nationwide 'virtual cinema' release day-and-date with a broad consumer VOD release. I can't think of a time when all of these have been combined in this manner."




The Yellow Room and national event streaming (for which you can pre-register here) will begin at 7:30pm EST, and feature entertainment from superstar pre-school teacher Rachel Giannini, 30 Rock sensation Jack McBrayer, banjoist extraordinaire Noam Pikelny, and Olympic gold medalist Kristi Yamaguchi. At 8pm EST the live-streaming premiere will commence, starting with an introduction by executive producer Alfre Woodard. Following the screening, a panel discussion with acclaimed early education experts on America's child care crisis will take place at 9:15pm EST. Some of the important speakers who will be present are Dr. Renee Boynton-Jarrett (Founding Director, Vital Village Network), Amanda Perez (Senior Advocacy Manager, ZERO TO THREE), Reggie Bicha (Executive Director, Shine Early Learning), and Brigid Schulte (director of the Better Life Lab at New America), who will be moderating the panel.

In addition, the live streamed event will include pre-recorded statements from a host of policy-makers devoted to the early childhood education cause, such as Gov. Mike DeWine (OH), Sen. Dick Durbin (IL), Rep. Lauren Underwood (IL-14), Rep. Tom Cole (OK-4), Rep. Deb Haaland (NM-1), Rep. Katherine Clark (MA-5), and Rep. Rosa DeLauro (CT-3).

All of the organizational outreach (another blog post) that the NSM team has conducted for the past five years is paying off with participation from key partners. The National Association for the Education of Young Children (NAEYC), ZERO TO THREE, Child Care Aware, United Way Worldwide, and Save the Children Action Network are co-hosting the event, presented with support from the Buffett Early Childhood Fund, Bezos Family Foundation, Imaginable Futures, Vanguard Strong Start for Kids Program and Bainum Family Foundation. A total of 85 of organizations are promoting the event and subsequent VOD release.

In addition to the organizational support, Falco and PR Collaborative are handling press (not only entertainment but educational press) and Bruce Kircoff and Jessica Schneider of 1113 Collective are handling social advertising for the event and VOD/DVD release. Take a look at the event page they created which has the social tool kit built in. Throughout the post are samples of the social graphics they created.

Right now Eventbright reservations are over 7000, with an additional 3700 indicating "interested" on Facebook. With everything going on in the world now, it is hard to get people's attention, and especially hard to get people to show up at a specific time and devote nearly three hours of their time. It will be exciting to see how this technology works and the effect that these combined efforts have. Sign up and join me in watching and I'll keep you posted on the results.

Desolation Center's Innovative VOD Release Strategy and Practice

Stuart Swezey's Desolation Center, a story of the Reagan-era desert performances featuring Sonic Youth, The Minutemen, Redd Kross, Meat Puppets, Einstürzende Neubauten & Savage Republic that influenced some of the world's most famous music festivals (Burning Man, Lollapalooza, Coachella), launches tomorrow on VOD after finishing a 50+ city theatrical release that culminated in NYC screening at the IFC Center in February just before Covid-19 hit in March.

I have had the pleasure of working on Desolation Center since the beginning and am excited to have seen their success (festival premieres at CPH:DOX, Sheffield and Slamdance) and how they are launching their VOD campaign so creatively.

In order to boost their rankings on iTunes in advance of their release tomorrow June 23, they have been motivating people to pre-order the film on iTunes by conducting a contest, promoting their pre-sales on iTunes. Pre-sales can help the iTunes algorithm take notice of your film (even with as few as 100 presales) and help put you in the top 50 documentary or indi lists. To enter, a customer must upload a photo of their iTunes purchase receipt and a Google form with the rest of their information.




Photo: Mariska Leyssius

Contestants have the chance to win a prize-package worth $370, including an art-card, stampbook, -shirt, mug, journal, and a Flag of the Republic: Desolation Center Edition designed & signed by Bruce Licher (one of only 75 in existence). Ten "second-prize" runner-ups will win a poster of the film signed by director Stuart Swezey, and anyone who participates will also win a free Desolation Center button & sticker.

And it is working - they are now the #1 Doc Pre-order on iTunes for this week - right next to Trolls World Tour! :




To promote the contest and the release they have been executing a very cost effective social ad campaign with some high quality content. I'll write more about the results of this campaign in the larger case study I am working on and will be releasing later.

Throughout the life of the film, Stuart and his team have smartly taken advantage of merchandise to not only promote the film but to raise money along the way. Together with Co-Producer and photographer Mariska Leyssius, they first began with an art show featuring photography and work from the concerts and from people who were participants, such as Cris Kirkwood of the Meat Puppets. This show preceded and influenced their crowdfund campaign which they used to see what merch was the most popular with their audience. They are continuing to create new merchandise, and recently partnered with Third Man Records in Detroit to work on releasing a vinyl 45 with live music from the original desert shows

In addition to the contest they have been setting up affiliate promotions with a number of key partners, such as Amoeba Records, WFMU, Sonic Boom Records, and Boston Hassle. Stuart wanted to support record stores that are suffering now during the Covid lockdown by giving them a cut of any of the sales that are generated through sales those stores promote to their lists. Many of their partners were developed during their theatrical run by outreach director Derek Kane-Meddock who is now in charge of the digital release partnerships.

Finally - they are still working on a series of virtual panel discussions with a number of the musicians from the film - these should roll out in the next weeks - and because this is a long tail - there is no reason to only run these in the beginning of the campaign. If any of you have seen the Fantastic Fungi campaign, they roll out new events every week or two well after the launch of their VOD. However this week Perry Farrell is doing a series of Zooms in coordination with Sirius XM on June 23rd for the launch.

With a combination of iTunes promotional contest, social advertising, partnerships and virtual events - the Desolation Center team is creating a unique VOD release strategy worth paying attention to. Look forward to the release of Swezey's insane "punkumentary", as well as a case study on Desolation Center's distribution strategy that I'll be releasing in the near future.

Ben Alex Dupris Filmming Bunky Echohawk
Introducing Four Sacred Colors by Ben-Alex Dupris

November is Native American Heritage Month - and I feel that it is more important now than ever to be celebrating and promoting Native stories by Native filmmakers. Native americans are on the front lines protecting our environment from exploitation and degradation, yet according to the massive research study Reclaiming Native Truth Project found that invisibility is now the modern form of bias against Native Americans and it's no wonder considering their representation in media. Native American characters ranges from 0 to .04% in prime time television and popular film." The report goes on: "The writers, directors, producers, professors and other influencers who create these representations of Native people are mostly non-Native, yet they are shaping how people view and portray Native Americans."

This past year I have been incredibly fortunate to work with the incredibly talented director Ben-Alex Dupris, producing his new film Four Sacred Colors featuring the artist Bunky Echo-Hawk. This week we will be presenting a work in progress of the film at Doc NYC. The film is part of a new initiative from PBS/American Masters through Firelight Media: Masters in the Making. I thought I would do a short interview with Ben for this piece so that he can give his perspectives on Native American representation in media – and why he wanted to make this film.

Why is it important for you to tell stories as a native filmmaker and/or?

"I was born and raised in a family I would later identify as being "Native American." Growing up, I couldn't see a difference between myself and those around me in the secular world. As I grew older it was evident that my culture, and the way our families interacted was not reflected in the pop culture we loved so much. The characters on TV were white or black. The homes they lived in didn't look like ours, and the circumstances they faced had nothing to do with my own reality on the reservation. I've waited half my life to see this change, but it just hasn't happened. I'm now completely dedicated to seeing our stories and images reflected in this way through film and television."

What is important about Bunky's story to you as a native filmmaker?

"Bunky Echo-Hawk has been a polarizing figure in the Native American art world for a long time. His refusal to follow conventional tropes in his work has branded him as a wildcard in the "Native" world where we are slow to embrace change. We have a collective distrust of change because of how fast the world has changed for our people in the past 500 years. So change is not encouraged, even when it's grounded in our own contemporary thoughts and ideologies. Bunky brings forward a sense of confidence in the opportunity to be both modern and traditional with the same equality. It's truly refreshing."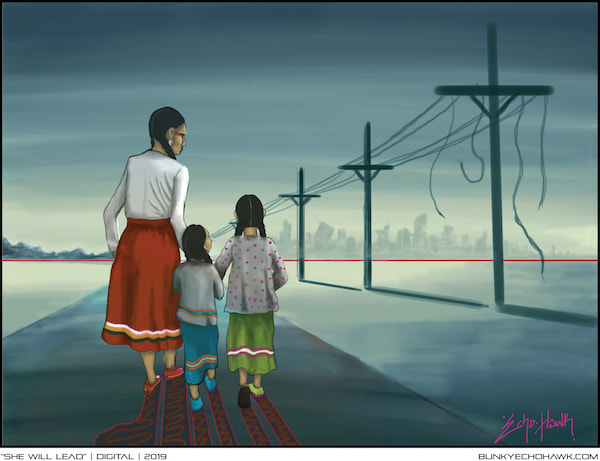 A bit about Bunky: Bunky Echo-Hawk was born on the Yakama Indian Reservation 30 miles downwind from the Hanford Nuclear Site. From 1946-1954, Hanford, under the direction of the US Government and General Electric, the contractor, experimented with long term, low rates of radioactive exposure on his Yakama relatives. Without their knowledge or consent, they were exposed to ten times more radiation than the amount released during the Chernobyl meltdown. This injustice has informed and continues to influence Bunky's art.
What is important about Bunky's story to you as a native filmmaker?
"Bunky is unafraid to talk about the grey nuances of being Native American today. He's unapologetic in his position against extraction industries like fracking companies, or nuclear power plants that do not care about the people who have to live in the communities they reside. His deep understanding of Pawnee tribal history allows us to see another layer of American history that we might not otherwise have known."

What are your thoughts on how most stories are told about native/indigenous people and issues?

"I know that we are in a very rapid transitional period in Native American filmmaking history. For decades our stories were stereotyped and exploited as part of the empirically inaccurate narrative of colonization from the white perspective. Generations have only understood us from the construct of being a conquered people. Nowadays we are rebuilding that narrative to include the amazing accomplishments of our people, and really dive deeply into the complicated nuances of our own Indigenous spirits. There is still a long way to go, as we have yet to stray too far from the political and social justice narratives. We are not exclusively warriors of change, or radically inclined to fight the atrocities of the U.S. Government. That is only one type of story. I'm excited about telling the other stories, the ones where we get to live like human beings before our issues first."



What kind of stories are you interested in telling?

"I'm interested in telling stories that inspire hope. I know the challenges we face as a human race are infinite and our Indigenous history is tragic. But my role in the filmmaking universe is to make the hair on the backs of our necks stand up, tears swell, or even scream for joy. I truly want people to taste life through Native American stories, and our people."

Working with Ben has been an incredible heart filled experience. Four Sacred Colors is our first full collaboration and it has been wonderful to have the opportunity to see Ben's development as an artist. I am taken not only with the stories he wants to tell, but his working methodology. I think you will appreciate his work as much as I have. The issues that Bunky brings to his work are so deep and complex that deciding what will go into the max ten minute short has been one of the biggest struggles. We are considering developing a feature documentary about Bunky to really do him justice. If you happen to be in NYC please join us Thursday at 5:15pm at the Cineopolis theaters - click for more info. Stay tuned for the American Masters release early next year.

APPLYING TO FILM FESTIVALS 10 DOS AND 5 DON'TS


So it's that intense festival time of year again. You're considering festivals, applying to festivals and who knows perhaps already excited about the festivals you have been accepted to.

Here are 10 Do's and 5 Don'ts when applying to film festivals. These suggestions are based not only on my own work with clients, but also from some amazing advice from some really knowledgeable folks who I have had the pleasure of being on panels with over this past year: Basil Tsiokis (SundanceFF/DocNYC), Tom Hall (Montclair FF), Dan Nuxoll (Rooftop Films), Omar Gonzales (PMK-BNC), Ania Trzebiatowska (Visit Films), David Nugent (Hamptons International FF), Milton Tabbot (IFP) But don't hold them responsible for everything I say – I take full responsibility.

The Do's:

Only submit when you are sure the film is ready to be seen. You only have one shot with each festival. 99.9% of the time festivals will not re-watch a film if submitted in a previous year. It is hard enough to get them to look at a new cut in the same year you are submitting unless you are an alumni or are an established filmmaker or both.
If you intend your film to be appreciated by an audience: test screen your film before you submit it and certainly before you lock picture. Don't let film festival programmers be the first outside audience for your film and certainly not the festival audience. (I could digress but that would be a whole other post).
Know your film Part 1: Research what festivals are best for your film. Look at the festival archives to see what their taste and programming is. Find similar previously released films and see where they played.
Create a Database with the dates of the festivals, their various deadlines, fees, who you may know that knows them, why you would apply etc.
Create a budget for submissions. It can add up very quickly.
Have a sense of the festival cycle(s) that starts in late summer early fall with TIFF, Venice, Telluride, IDFA then the mini-Winter/Spring cycle starts with Sundance – the overarching fall to spring cycle pretty much ends in June with summer off. If you are finishing your film in winter you will need to evaluate whether to submit to the end of that years cycle or wait till next year.
Submit to a variety of kinds of festivals. Apply to the solid regional and niche/genre festivals – there are many of them that are super worthy and would be great for your film. Women's, LGBTQ, Jewish, African American, Horror, Environmental etc. However be cautious about your premiere.
Have a strategy. If you feel your film has the chops for a top tier festival, apply to those – and then try for stronger regional and niche festivals. This is one of the toughest parts of devising a strategy, how long to wait to apply for non-top tier festivals. You want to be cautious about where you premiere – but you also don't want to be a year in and still not have some festivals lined up!
If you have advocates here are some guidelines:

Make sure the advocate knows the film.
Understand that this is a big ask – the advocate only has so many films they can lobby for – so is this the right thing you want to ask of that advocate? Are there other more important needs for your film.
Understand that ultimately this advocacy mainly guarantees calling the film to the attention of the programmers. Despite rumors to the contrary – it doesn't guarantee that a film will be accepted.

Know Your Film Part 2: Your film may not be a festival film. Some films might have a better play at niche conferences than festivals – and this might result in more money and more audience connection and more opportunities to change the world than festivals. Don't waste a full year festival cycle to find this out.
What Not to Do – The Don'ts:
Don't rush the film to make a deadline. The inverse of #1 above – but worth repeating. Don't risk making a lesser film. The world is so competitive now with so much content – you need to focus on creating the best film possible no matter what.
Don't submit late: Meet an official deadline. Extensions are generally bad for a variety of reasons. Festivals give preference to films that have met their deadlines.
Festivals will not guarantee they will look at the film.
Films may have already become favorites – especially one that might be similar to your film – and already have a champion at the festival.
Some films are already selected and it reduces your percentage of making it in.Extensions are extra work for the festival.
This is especially true for first time filmmakers. If you have an experienced producer – perhaps – but still not a great idea.

Don't be secretive with film festival programmers. If you got into another festival that has a conflicting premiere status – don't be coy with either festival – be upfront and tell the programmers who accepted your film. Ask for a few more days. The programmer won't love it – but they will generally understand. It is best to call them and not email so that you can create a human connection.

Don't ask for fee waivers unless you are an alumni of the festival. You don't want to start off your relationship with a festival asking them to work for free (which is what you are doing by asking for a fee waiver). If you get into a more prominent festival, you will probably start receiving invitations with fee waivers.



Don't try to talk to a programmer after you have submitted your film unless you know them well (in which case you probably wrote them an email). Understand that programmers are super busy during this time and it doesn't do any good to try to talk to them to tell them what they already know from your submission. "My film is great and so and so is in it, it's about such and such." What do they say to that?

Communicate only when you have an update that is relevant for the festival such as being accepted into another festival that affects premiere status in some way.

If you have questions about the above – or need help in crafting your festival plan – feel free to reach out to us. We are here to help you.
Distribution: Aggregators vs. Distributors

In the wake of the seeming demise of Distribber, which was one of the main ways in which filmmakers could get their work up onto major online platforms, it seems that it is still important to indicate the difference between aggregators and distributors - as well as between the two main types of aggregators: aggregators for hire and aggregators by percentage. Yesterday I was interviewed by Jeffrey Michael Bays and Forris Day for their Get Real: Indie Filmmakers podcast about the Distribber situation and discuss some potential solutions. You can find it here. But first some background that most filmmakers still require:

Distributors are companies that will acquire a film and take control of all the distribution and marketing for that film. The hope/dream from filmmakers is that this distributor will release it in the best possible way to audiences and in doing so achieve that filmmaker's goals. Most filmmakers are eager to move on to their next project. The aspiration on the part of the filmmaker is that the distributor will understand the film and its audience and give it the release it deserves. Sometimes this happens, sometimes it doesn't, often in between.

Distributors will argue that they invest time and money (including hopefully an advance for the film)and in exchange, the they want to take as many rights and territories for as many years as possible. Many distribution offers are are for all-rights in either the US, North America or the world and can run from 15-30 years. You need to have either gotten a nice advance, or have a lot of belief and trust in that distributor to take that plunge.

While there are many very good distributors now, there are many reasons why a filmmaker may not engage with an all-rights distributor. (for future posts)

The alternative to an all-rights distributor is to pursue a split rights or hybrid strategy. This is a vast subject and has taken me a book and much writing since to explain. But for this post we just need to know that an essential component to a hybrid release are the digital rights. Generally these rights are handled by one form of aggregator who just as the name implies aggregates content and then presents it to the major digital platforms: iTunes, Netflix, Amazon, Hulu etc - as well as usually cable VOD outlets.



An aggregator for hire is one that you pay a flat fee and in exchange they will shepard your film through the encoding process on TVOD (transactional VOD) and AVOD (Ad supported VOD now sometimes called ADVOD) as well as sometimes pitch your film to SVOD (subscription VOD). Beyond putting your films on platforms, they don't promote your film. That is up to you. You keep 100% or nearly 100% of all revenue that the aggregator receives from those platforms from the sale/rental of your film. The filmmaker pays a fee for each platform the aggregator delivers to (and sometimes pitches to). Distribber was one such aggregator. Others are Quiver, Bitmax and The Film Collaborative (who go through Quiver).

An aggregator for percentage will generally (although not always) front the encoding costs (but they generally always take these expenses off the back end). They will promote your film to all the platforms they have relationships with including not only broadband but also cable VOD. However, they also take a percentage of the gross return from those platforms. In general they argue that they will market your films - in many cases this is in the form of what is called merchandising. Merchandising is when the aggregator promotes their films to the various platforms arguing for prominence on that platform. One of the most common of these is the New and Notable section (or even the front page) of iTunes. This placement can help with one of the most common problems in our sea of content - a film being found.

Many of these aggregators for percentage do not consider themselves aggregators. They will pitch your film for broadcast in additon to VOD (they may also handle other rights such as educational, airplane/hotel, etc) and hence actually consider themselves distributors (even though many don't do theatrical or semi theatrical which used to be a cornerstone of distributon).

Common to all aggregators (and distributors) is that one of their key roles is to collect money and pay it out to the filmmakers (after deduction of hopefully specified expenses). Finding out if your potential distribution partner pays on regularly and on-time is essential. You normally do this by asking other filmmakers who have worked with them. You should always vet any distribution partner by talking to at least two filmmakers who have worked with them recently.

And this was the rub with Distribber. Until recently they were very well regarded and had a reputation of paying their filmmakers. This unfortunately seems to have changed with many filmmakers indicating that not only have they not been paid, but cannot seem to get a response from the company. Check out the podcast indicated above if you are one of these filmmakers who went with Distribber. If you have not - stay tuned for future posts on how to handle your release - digitally and otherwise.