Last year I had the pleasure of working with the No Small Matter team to help them create a theatrical release and then pivot during Covid-19 to a national streaming event. NSM Co-Producer and Impact Producer and I wrote a two part case study for Filmmaker Magazine covering the very practical steps that the NSM team took to lay the groundwork for a very successful release. Here are the first few paragraphs of the article and you can find the full article here.

No Small Matter, Part Two: Four Tips on Releasing an Independent Documentary During a Pandemic

Written by Laura Wilson Fallsgraff and Jon Reiss

Last week, we chronicled the winding but rewarding grassroots impact campaign for our feature documentary on early childhood education, No Small Matter. But we left off at a critical juncture we know many friends and colleagues faced this year — to release or not to release an indie film during a pandemic?

Last winter, our team brought on distribution strategist Jon Reiss to help determine the best way to create a final launch for the film with a theatrical and VOD release to reach beyond our grassroots outreach. With Jon we began working with Abramorama and Passion River to stage one last hurrah for No Small Matter, a film that had already been shown at nearly 1,000 screenings around the country: A 60+ city theatrical release, scheduled for, you guessed it, March 2020, including weeklong runs in New York, Los Angeles, and DC theaters leading into wider release in early April. It would all build up to the VOD release during the national Week of the Young Child, when early education advocates around the country lobby for funding and raise awareness about the importance of this issue.

Everything was looking up; we worked with Abramorama's bookers to reach out to local early education organizations in every one of the nearly 70 cities booked to host panels and conversations focused on state or local initiatives that could drive traffic to the theaters. Our national partner organizations were ready to promote the heck out of the runs. But before we hopped on our flight to D.C. for our first press screening… lockdown.

Read the rest of the article here in Filmmaker Magazine.



Here are the first paragraphs of part one of the No Small Matter release case study. You can find the full article here.

No Small Matter - Six Tips for A Successful Grassroots Release

Written by Laura Wilson Fallsgraff and Jon Reiss

The past year has thrown everything but the kitchen sink at filmmakers, disrupting distribution timelines, cutting the legs out from under theaters, and depriving our community of opportunities for networking, sales, and press. But there have also been bright spots. While contending with major disappointments this year, many filmmakers have successfully pivoted to unique and impactful releases — models that are worth learning from and iterating on in the years ahead.

It's tempting to reminisce upon the "before COVID" times with rose-colored glasses, but independent filmmakers were struggling to get by long before 2020. Following its completion in 2018, our own feature documentary No Small Matter had run into the familiar distribution hurdles faced by many other filmmakers. When we conceived of this impact-driven documentary about the importance of high quality early childhood education (ECE) in America, we knew it wouldn't be a festival darling. Yet despite positive reviews (100% on Rotten Tomatoes) and grassroots energy around the project, nearly a year with a sales agent yielded no results. And then COVID hit, weeks before a nationwide theatrical release in partnership with Abramorama. An outside observer might have assumed that we were, well… screwed.

Yet without those traditional markers of success, No Small Matter has reached millions of people all over the world through more than 1,300 grassroots screenings, DIY educational distribution and 13 million social media impressions.

Read the rest of the article here in Filmmaker Magazine. Part two coming next week.



Nasrin Opens Today in Theaters Nationwide

I have been very proud to work on the campaign for Nasrin since this past summer and I hope that you will join me in watching the film this opening weekend. The film is an immersive portrait of the world's most honored human rights activist and political prisoner, attorney Nasrin Sotoudeh, and of Iran's remarkably resilient women's rights movement.

Purchase tickets here.

In addition, Pen America and Ms. Magazine are hosting a conversation moderated by Nicholas Kristof, introduced by Margaret Atwood with human rights advocate Kerry Kennedy, Iranian artist and activist Parastou Forouhar, NASRIN filmmakers Jeff Kaufman and Marcia Ross with a video message from Nasrin's husband Reza Khandan. You can sign up here.

"Her courage, like that of so many in this film, is breathtaking." NY Times

"This riveting film shines a light on one of the most enlightened, exciting and courageous people in the fight for human rights." Newsweek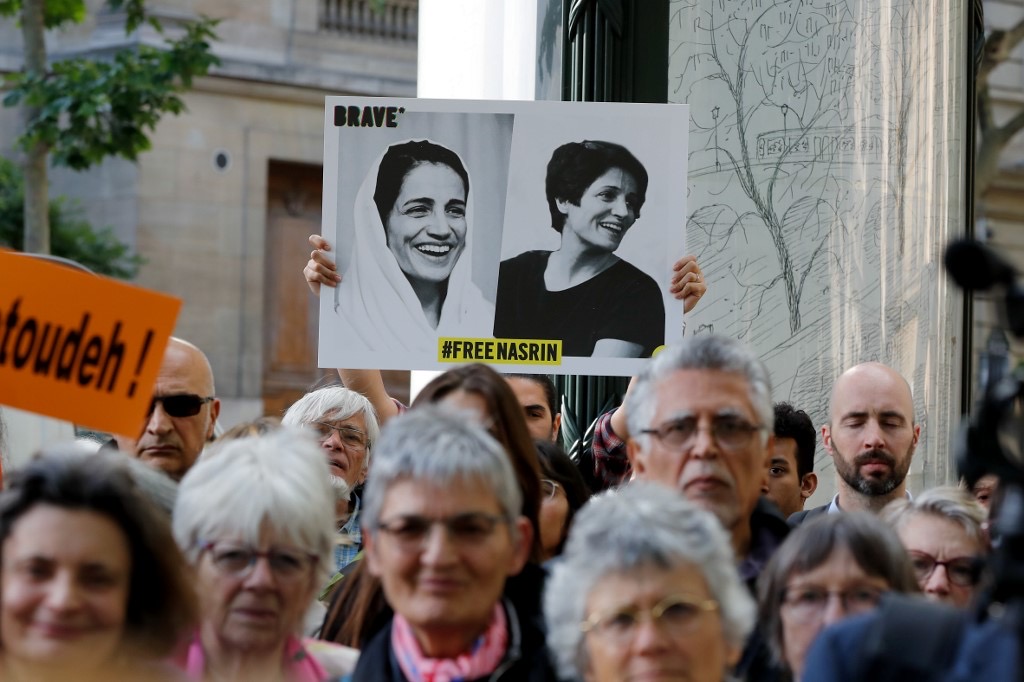 From award-winning filmmakers Jeff Kaufman and Marcia Ross, Nasrin was secretly filmed in Iran by women and men who risked arrest to make this film. In the courts and on the streets, Nasrin has long fought for the rights of women, children, religious minorities, journalists and artists, and those facing the death penalty. In the midst of filming, Nasrin was arrested in June 2018 for representing women who were protesting Iran's mandatory hijab law. She was sentenced to 38 years in prison, plus 148 lashes. The film features acclaimed filmmaker Jafar Panahi, Nobel Peace Prize laureate Shirin Ebadi, and journalist Ann Curry. Narrated by Academy Award-winner Olivia Colman.




Still in prison, Nasrin recently received the 2020 Right Livelihood Award (considered the alt Nobel Prize) along with Bryan Stevenson, Lottie Cunningham Wren and Ales Bialiatski/Visasna and the Eleanor Roosevelt Prize for Global Human Rights Advancement from the ABA along with Dr. Anthony Fauci and Billie Jean King.

I hope you can watch the film this weekend and join the discussion on Monday.

Jon



The Disrupted Opens Virtually Today in Theaters Nationwide

As you know, I help filmmakers with the distribution and marketing of their films, but I only rarely actively distribute films. I came on board The Disrupted because with the election less than two months away, it is crucial and timely. The Disrupted is a beautiful film about the struggles that more and more Americans are facing to find that elusive "American Dream". We are thrilled to be working with director/producer Sarah Colt to bring her film to over 40 theaters across the country. For a full list of theaters click here. If your city isn't listed, don't worry you can access any of these theaters if you are in the United States.

THE DISRUPTED, a powerful, intimate, engaging, and informative documentary, dives deep inside the lives of three Americans working harder than ever, as their place in the middle class slips away. For a farmer, a factory worker, and an Uber driver, rising income inequality betrays the American Dream.

The COVID-19 pandemic has further exposed the fragility of the American economy, as we witness widespread business closures, skyrocketing unemployment, and pervasive racism and discrimination. As the upcoming presidential election takes center stage, each of these characters' personal stories of struggle and perseverance is not only timely, but critical to gaining insight into this exceedingly precarious time.




"The Disrupted is an indictment of the neo-liberal system, but uses subtlety, not blunt force, to get its message across. The global forces that are combing to kill the hopes and dreams of these hard-working and disparate characters are never seen or identified. But in a way of far greater reality and relevance to most ordinary Americans than Donald Trump's odd epithet for the Coronavirus, neo-liberalism is the «invisible enemy» that is stealing American livelihoods while the country's president fiddles away in the White House like a latter-day Nero." Modern Times

Director Sarah Colt: "As we barrel towards the next presidential election, I believe THE DISRUPTED has the potential to spark meaningful dialogue and even unite disparate constituencies. The film demonstrates how thoroughly unsettled the middle class has become, dramatically underscoring that we have more in common than we realize."

I hope you can join us this weekend!



Dangerous and Disturbing - Accepted to IFP Spotlight on Docs!

For the past year I have been developing a documentary about Mark Pauline and Survival Research Laboratories currently titled Dangerous and Disturbing: The Mark Pauline Story. I am thrilled to announce that we have been selected by the IFP for this year's Independent Film Week/Spotlight on Docs - which is the largest doc pitch event in the US and one of the top doc pitching events in the world.

I was fortunate to see my first SRL show back in 1980 titled "TERRIFYING SCENES FROM THE BATTLEFIELDS OF TOMORROW", and it is still seared into my brain cells. Soon thereafter I became a part of the seminal SF punk documentary collective Target Video and I was soon shooting and editing Mark's early performances. This morphed into a 10 year relationship with Mark and SRL creating all of the early documentation of SRL and the short film "A Bitter Message of Hopeless Grief", which went on to screen at Sundance, Berlin Film Festival.

What first fascinated me about Mark's work (causing me to devote much of my 20s to working with him) was how it represented power relationships within our society in unique, humorous and terrifying ways. I felt (and still feel) that his non-didactic, non-literal approach has an incredible ability to break through audiences' jaded sensibilities and cut to the core of what ails our society and institutions.




Thirty years later we are waking up to the more dystopian possibilities of humanity's relationship to technology from facial recognition to data collection, behavioral algorithms, social media, fake news, covert secret drone strikes and near appearance of Autonomous Lethal Weapons (killer robots).

The intention of the film is to use what Mark is working on now - e.g., The Predator Arm - as a narrative structure to tell the history of SRL. I have been able to film Mark and the development of the predator arm off and on over the last year and we will continue shooting into 2021.

I was fortunate to be the Senior Lab Leader at the IFP Filmmaker Lab for ten years and to have also participated in Independent Film Week as a speaker/panelist/mentor but now I am super excited to be on the other side pitching Dangerous and Disturbing!