Nasrin Opens Today in Theaters Nationwide

I have been very proud to work on the campaign for Nasrin since this past summer and I hope that you will join me in watching the film this opening weekend. The film is an immersive portrait of the world's most honored human rights activist and political prisoner, attorney Nasrin Sotoudeh, and of Iran's remarkably resilient women's rights movement.

Purchase tickets here.

In addition, Pen America and Ms. Magazine are hosting a conversation moderated by Nicholas Kristof, introduced by Margaret Atwood with human rights advocate Kerry Kennedy, Iranian artist and activist Parastou Forouhar, NASRIN filmmakers Jeff Kaufman and Marcia Ross with a video message from Nasrin's husband Reza Khandan. You can sign up here.

"Her courage, like that of so many in this film, is breathtaking." NY Times

"This riveting film shines a light on one of the most enlightened, exciting and courageous people in the fight for human rights." Newsweek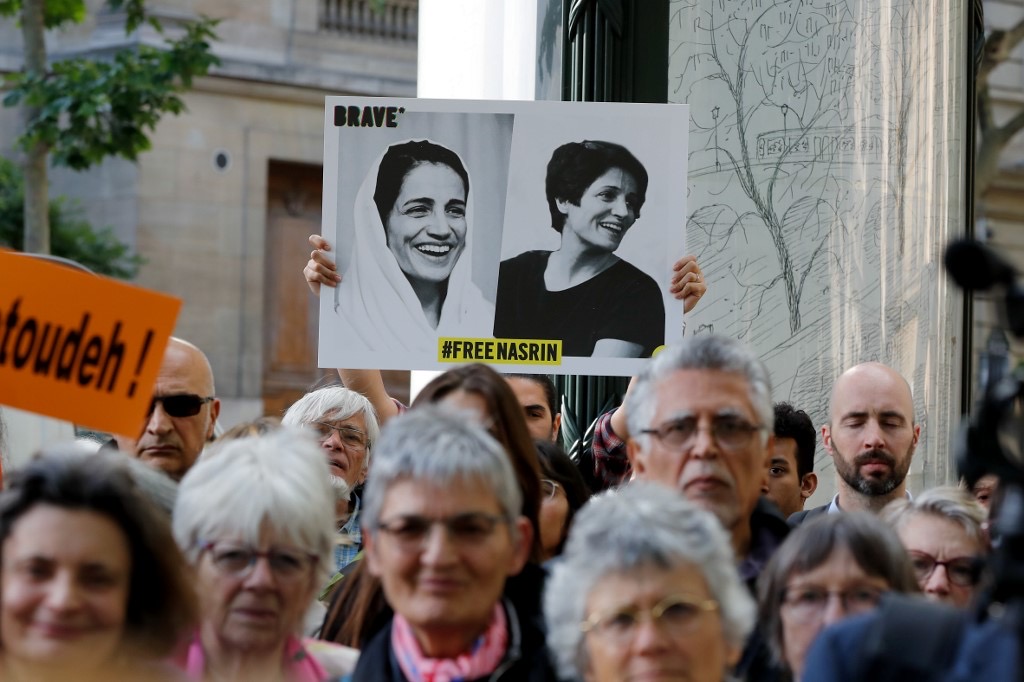 From award-winning filmmakers Jeff Kaufman and Marcia Ross, Nasrin was secretly filmed in Iran by women and men who risked arrest to make this film. In the courts and on the streets, Nasrin has long fought for the rights of women, children, religious minorities, journalists and artists, and those facing the death penalty. In the midst of filming, Nasrin was arrested in June 2018 for representing women who were protesting Iran's mandatory hijab law. She was sentenced to 38 years in prison, plus 148 lashes. The film features acclaimed filmmaker Jafar Panahi, Nobel Peace Prize laureate Shirin Ebadi, and journalist Ann Curry. Narrated by Academy Award-winner Olivia Colman.




Still in prison, Nasrin recently received the 2020 Right Livelihood Award (considered the alt Nobel Prize) along with Bryan Stevenson, Lottie Cunningham Wren and Ales Bialiatski/Visasna and the Eleanor Roosevelt Prize for Global Human Rights Advancement from the ABA along with Dr. Anthony Fauci and Billie Jean King.

I hope you can watch the film this weekend and join the discussion on Monday.

Jon



The Disrupted Opens Virtually Today in Theaters Nationwide

As you know, I help filmmakers with the distribution and marketing of their films, but I only rarely actively distribute films. I came on board The Disrupted because with the election less than two months away, it is crucial and timely. The Disrupted is a beautiful film about the struggles that more and more Americans are facing to find that elusive "American Dream". We are thrilled to be working with director/producer Sarah Colt to bring her film to over 40 theaters across the country. For a full list of theaters click here. If your city isn't listed, don't worry you can access any of these theaters if you are in the United States.

THE DISRUPTED, a powerful, intimate, engaging, and informative documentary, dives deep inside the lives of three Americans working harder than ever, as their place in the middle class slips away. For a farmer, a factory worker, and an Uber driver, rising income inequality betrays the American Dream.

The COVID-19 pandemic has further exposed the fragility of the American economy, as we witness widespread business closures, skyrocketing unemployment, and pervasive racism and discrimination. As the upcoming presidential election takes center stage, each of these characters' personal stories of struggle and perseverance is not only timely, but critical to gaining insight into this exceedingly precarious time.




"The Disrupted is an indictment of the neo-liberal system, but uses subtlety, not blunt force, to get its message across. The global forces that are combing to kill the hopes and dreams of these hard-working and disparate characters are never seen or identified. But in a way of far greater reality and relevance to most ordinary Americans than Donald Trump's odd epithet for the Coronavirus, neo-liberalism is the «invisible enemy» that is stealing American livelihoods while the country's president fiddles away in the White House like a latter-day Nero." Modern Times

Director Sarah Colt: "As we barrel towards the next presidential election, I believe THE DISRUPTED has the potential to spark meaningful dialogue and even unite disparate constituencies. The film demonstrates how thoroughly unsettled the middle class has become, dramatically underscoring that we have more in common than we realize."

I hope you can join us this weekend!



Dangerous and Disturbing - Accepted to IFP Spotlight on Docs!

For the past year I have been developing a documentary about Mark Pauline and Survival Research Laboratories currently titled Dangerous and Disturbing: The Mark Pauline Story. I am thrilled to announce that we have been selected by the IFP for this year's Independent Film Week/Spotlight on Docs - which is the largest doc pitch event in the US and one of the top doc pitching events in the world.

I was fortunate to see my first SRL show back in 1980 titled "TERRIFYING SCENES FROM THE BATTLEFIELDS OF TOMORROW", and it is still seared into my brain cells. Soon thereafter I became a part of the seminal SF punk documentary collective Target Video and I was soon shooting and editing Mark's early performances. This morphed into a 10 year relationship with Mark and SRL creating all of the early documentation of SRL and the short film "A Bitter Message of Hopeless Grief", which went on to screen at Sundance, Berlin Film Festival.

What first fascinated me about Mark's work (causing me to devote much of my 20s to working with him) was how it represented power relationships within our society in unique, humorous and terrifying ways. I felt (and still feel) that his non-didactic, non-literal approach has an incredible ability to break through audiences' jaded sensibilities and cut to the core of what ails our society and institutions.




Thirty years later we are waking up to the more dystopian possibilities of humanity's relationship to technology from facial recognition to data collection, behavioral algorithms, social media, fake news, covert secret drone strikes and near appearance of Autonomous Lethal Weapons (killer robots).

The intention of the film is to use what Mark is working on now - e.g., The Predator Arm - as a narrative structure to tell the history of SRL. I have been able to film Mark and the development of the predator arm off and on over the last year and we will continue shooting into 2021.

I was fortunate to be the Senior Lab Leader at the IFP Filmmaker Lab for ten years and to have also participated in Independent Film Week as a speaker/panelist/mentor but now I am super excited to be on the other side pitching Dangerous and Disturbing!



Every Act of Life - We Got Nominated for an Emmy!

We have been working on the Emmy campaign for American Masters/Every Act of Life for the last four months and are excited to announce that we (American Masters) got nominated for Outstanding Documentary or Nonfiction Series! Every Act of Life was directed and written by Jeff Kaufman and produced by Marcia Ross. Executive produced by Jay Alix and Una Jackman among others. This affecting documentary explores the monumental life of Tony-award winning playwright and gay-rights activist Terrence McNally, tracking his struggles with addiction and recovery, finding true love, and the relentless pursuit of inspiration.

I was brought on by executive producers Jay Alix and Una Jackman and was able to assemble an amazing team of David Magdael, Vince Johnson, and William Samoya, social media ad maven Sheri Candler. We focused our budget on resources and tactics that would target the voters in our category- the documentary peer group. While we were brought on to promote this one film as part of the series we of course promoted the whole series as part of our campaign. We are now in the process of working on the campaign to win! - I'll be writing up a case study of our tactics in September. Until then free to follow some of our activities on the Every Act Of Life FB page.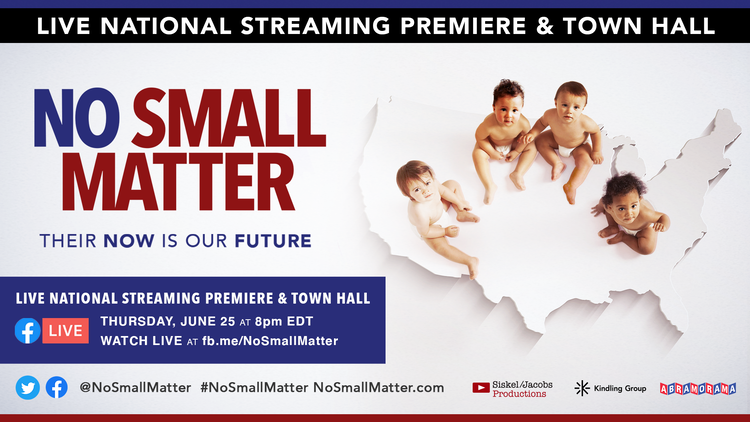 No Small Matter Covid-19 Pivot - Global Screening Event

Since last fall I have been working with the team behind No Small Matter (directors Danny Alpert, Greg Jacobs, Jon Siskel, producer Rachel Pikelny and impact producer/co-producer Laura Fallsgraff) to create a national event to cap their incredible impact focused grassroots campaign that had already resulted in over 1200 community screenings. This massive campaign had been orchestrated by Fallsgraff, Siskel, Jacobs, Alpert and their teams at Siskel/Jacobs and Kindling Group. (The impact campaign is notable for how early and extensively they started working with partners - more in a future post). No Small Matter is a feature length documentary designed to bring the issue of quality early-childhood education to the top of America's political agenda. Illustrating the immense impact that the first few years of life have on a child's development, and the huge benefit that improved early childhood education will therefore have on America's economic and social future, No Small Matter is a heart-wrenching, comedic, and sobering window into the lives of America's youngest citizens.

Originally, the plan had been to work with Abramorama to create a national theatrical release as a way to help the issue penetrate the media landscape as well as help launch the film on VOD through Passion River. We were slated for a March 27th NYC theatrical launch, followed a week later by Washington, D.C. (combining a DC influencer screening with a theatrical) and then going wide to over 50 theaters in the weeks leading up to a mid-April VOD release (eg day-and-week/month). We had planned a number of tentpole events that would have broad appeal panel discussions with widespread organizational support. Many more theaters were organizing with local groups to create special events as well. But then, as we know, Covid-19 hit and we were one of the first films to cancel/postpone our release.

More than a "bummer" (or inconvenience) for the release of the film, the pandemic quickly revealed itself as a crisis for early education in the U.S., a sector which was already on thin ice. "America's early learning infrastructure was fragile even before COVID-19," co-directors Danny Alpert, Greg Jacobs, and Jon Siskel stated. "But the pandemic has pushed it to the brink of collapse. Half of all child care sites have been shuttered, and thousands may be forced to close permanently in the next few months. With no other option but to stay home with their kids, millions of parents will be unable to return to their jobs, paralyzing efforts to restart the economy. What the pandemic has made painfully apparent is that America simply doesn't work without child care."




To respond to this urgent situation, we huddled with Abramorma in April to determine what could both replace the theatrical release and call attention to this problem. It was important to the filmmakers to retain the discussion around child care that the initial theatrical intended to foster. Richard Abramowitz and Karol Martesko-Fenster proposed a one time national digital event screening followed by a town hall with prominent thought leaders on the issue streamed live on Facebook (and cross posted on YouTube and Twitter). The event would not only draw national attention to the issue, but would help launch the broader release of the film to the public on VOD and DVD (yes people and libraries still buy DVDs). In addition we would see if theaters who had originally programmed the film back in March would sign on for a virtual theatrical run day and date with the VOD launch.

Shortly after deciding on this plan the NSM team thought up the idea of starting the night with some children's programming — The Virtual Yellow Room, named for the classroom featured in the film — as a "bed-time" activity before the film that might help parents watch the show.

Karol from Abramorama notes that "this is the first time that there has been an enterprise level international live stream at 1080p to a feature documentary's Facebook page, cross-posted on FB to multiple early childhood organizations and simultaneously streamed to multiple Twitter destinations. The 30+ FB cross-posting organizations and the Twitter destination accounts greatly magnify the reach of the live stream. While that is a first - it is also a first to combine that release with a kid centric 'Virtual Yellow Room,' followed by a live panel discussion and to have a nationwide 'virtual cinema' release day-and-date with a broad consumer VOD release. I can't think of a time when all of these have been combined in this manner."




The Yellow Room and national event streaming (for which you can pre-register here) will begin at 7:30pm EST, and feature entertainment from superstar pre-school teacher Rachel Giannini, 30 Rock sensation Jack McBrayer, banjoist extraordinaire Noam Pikelny, and Olympic gold medalist Kristi Yamaguchi. At 8pm EST the live-streaming premiere will commence, starting with an introduction by executive producer Alfre Woodard. Following the screening, a panel discussion with acclaimed early education experts on America's child care crisis will take place at 9:15pm EST. Some of the important speakers who will be present are Dr. Renee Boynton-Jarrett (Founding Director, Vital Village Network), Amanda Perez (Senior Advocacy Manager, ZERO TO THREE), Reggie Bicha (Executive Director, Shine Early Learning), and Brigid Schulte (director of the Better Life Lab at New America), who will be moderating the panel.

In addition, the live streamed event will include pre-recorded statements from a host of policy-makers devoted to the early childhood education cause, such as Gov. Mike DeWine (OH), Sen. Dick Durbin (IL), Rep. Lauren Underwood (IL-14), Rep. Tom Cole (OK-4), Rep. Deb Haaland (NM-1), Rep. Katherine Clark (MA-5), and Rep. Rosa DeLauro (CT-3).

All of the organizational outreach (another blog post) that the NSM team has conducted for the past five years is paying off with participation from key partners. The National Association for the Education of Young Children (NAEYC), ZERO TO THREE, Child Care Aware, United Way Worldwide, and Save the Children Action Network are co-hosting the event, presented with support from the Buffett Early Childhood Fund, Bezos Family Foundation, Imaginable Futures, Vanguard Strong Start for Kids Program and Bainum Family Foundation. A total of 85 of organizations are promoting the event and subsequent VOD release.

In addition to the organizational support, Falco and PR Collaborative are handling press (not only entertainment but educational press) and Bruce Kircoff and Jessica Schneider of 1113 Collective are handling social advertising for the event and VOD/DVD release. Take a look at the event page they created which has the social tool kit built in. Throughout the post are samples of the social graphics they created.

Right now Eventbright reservations are over 7000, with an additional 3700 indicating "interested" on Facebook. With everything going on in the world now, it is hard to get people's attention, and especially hard to get people to show up at a specific time and devote nearly three hours of their time. It will be exciting to see how this technology works and the effect that these combined efforts have. Sign up and join me in watching and I'll keep you posted on the results.