Desolation Center in Theaters this Week

After a great festival run including Slamdance, CPH: DOX, Sheffield International Doc Fest and many more Desolation Center starts the next step of its journey today with the launch of a 30+ city theatrical release. It hits Los Angeles this week and then onward across the US and Canada.

I have been advising and working Stuart Swezey on this remarkable film since the beginning - even contributing some footage from my early Mark Pauline/Survival Research Laboratories documentaries. The film plays exceptionally well in theaters and Stuart has been creating a number of events with musicians around the release such as the Rooftop Films screening in NYC featuring Lee Ranaldo of Sonic Youth. Check out the trailer here.

From the LA Times: "In the early 1980s, fed up with the violence that Daryl Gates' LAPD brought down on the flourishing Hollywood punk scene, Stuart Swezey took to the warehouse wasteland of downtown L.A., and then to the wide-open spaces of the desert, booking punk, noise, industrial music and experimental art shows under the moniker "Desolation Center." His first venture featured San Pedro punkers Minutemen, $12 tickets and a school bus ride to the Mojave. No one could have known that this event would be the first DNA strand of the multibillion-dollar modern music festival, as chronicled in Swezey's documentary "Desolation Center."

Swezey's film is a historical record of this short-lived time and this singularly L.A. scene — he promoted only three desert shows and one on a boat. The era ended with the death of Minutemen guitarist D. Boon in 1985, but it means that Swezey never sold out. Though the "Desolation Center" served as inspiration for the massive festivals of today, in the hearts and minds of the scene's major figures, it remains pure to the punk ethos."


Welcome to 8 Above

In 2009 I founded Hybrid Cinema as a company to publish my book Think Outside the Box Office. It felt like the right name at the time since I was (and still do) preach hybrid distribution. Further, I was (and still am) a lover of "cinema". However, over the past number of years, I have been advising filmmakers and companies on a wide range of media projects and increasingly it felt limiting to keep the name rooted in "cinema".

In addition while I have continued to be involved in production since I wrote Think Outside, (I made Bomb It 2 and have also worked as a consulting producer on a number of projects including Desolation Center and Sweetheart Dancers), I wanted to devote more time to production while still continuing to help other filmmakers with their distribution and marketing.

8 Above references when the sun is eight degrees above the horizon which is in the middle of sunset and sunrise. This magic hour is one of the optimal times for filming exteriors because the light is so favorable. This is my way of symbolizing a stronger step back into filmmaking and media creation.

But this "magic hour" also represents a time of transition. Most of our clients find themselves at a time of transition, usually when they are nearing the end of production and post-production and are starting to consider how to connect their creative project with the world.

My desire was to create a company that would express a great degree of openness, transition and abundance. Reach out – I would love to connect with you.

Jon


7 Deadly Sins of Self-Distribution
Hot Docs Presentation and Notes from the Forum


Earlier in the month, I had the pleasure to present and attend Hot Docs. As I am pitching a few new projects to direct and produce, I was especially interested in attending the Forum (5 notes of pitching to forums below).

But first - I want to share the presentation that Sonja Henrici of the Scottish Documentary Institute and I did at Hot Docs - The Seven Deadly Sins of Self Distribution. (This presentation includes an introduction to the PESO concept.)

To be honest there are so many mistakes that filmmakers make, it was hard to narrow it down to seven! Here is what we decided on:
Sin #1: Not Having a Strategy that is Appropriate for Your Film

Sin #2: Don't Rely on Distributors to Save You

Sin #3: Not Knowing Your Audience

Sin #4: Not Knowing the Language of Marketing

Sin #5: Not Engaging Organizations Early Enough

Sin #6: Thinking Organic Social Media Is All You Need

Sin #7: Not Collecting Data From A Variety of Sources
To receive a download of this presentation, signup for our email list.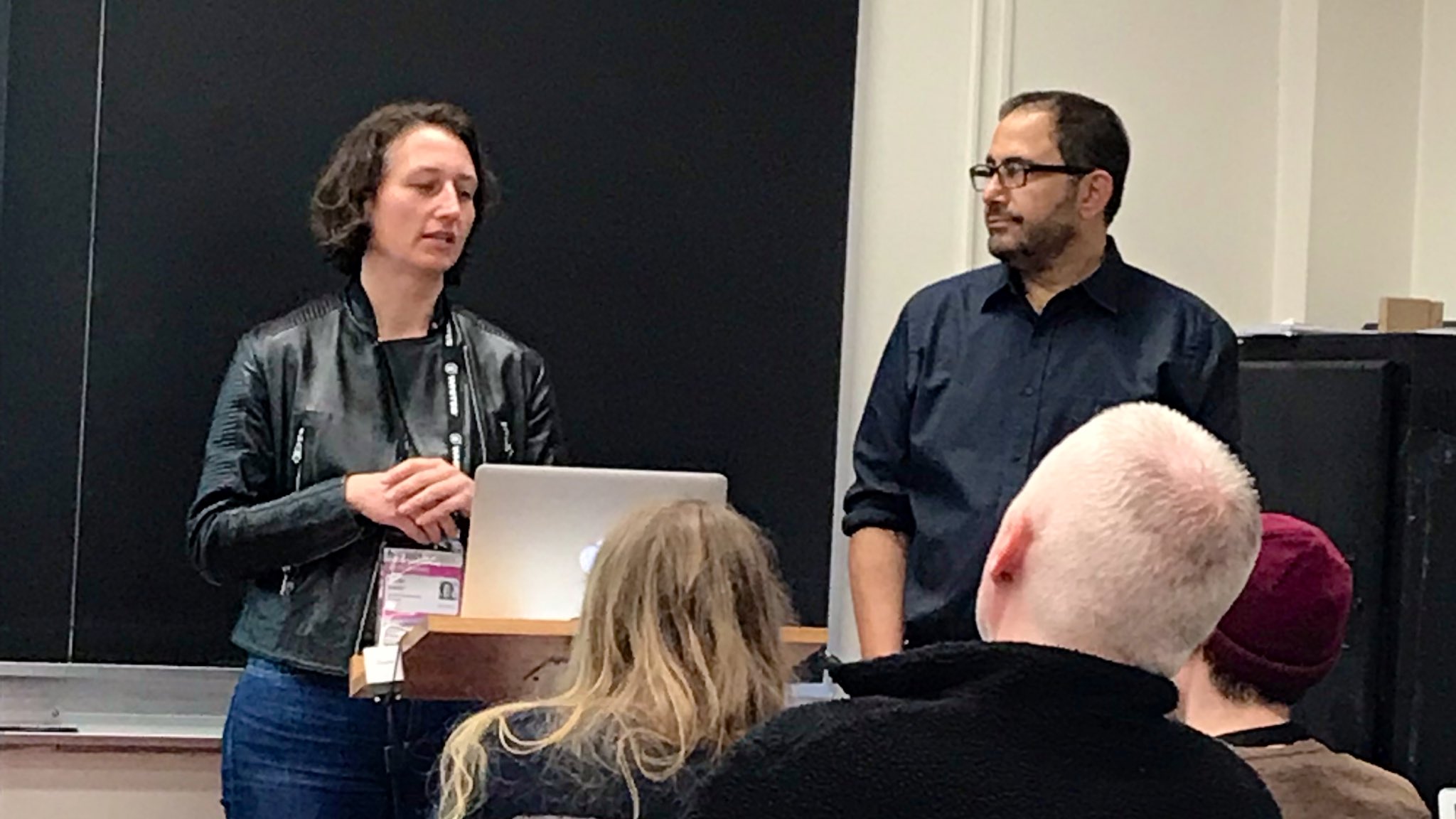 It was very informative to watch this year's pitches. Twice Colonized (a really wonderful pitch and potential film) won the Hot Docs Forum Pitch Prize. But the IFP Filmmaker Lab project Socks on Fire: Uncle John and the Copper Headed Water Rattlers won the Cuban Hat Award. Here are 5 takeaways:

1. The amount of money given to projects that are pitched has definitely declined in recent years with nearly no project receiving a verbal commitment of money from any of the broadcasts. Instead there was a lot of "we are interested, let's talk". There was even a panel outside of the forum on whether pitch forums are still useful. However some of those conversations did lead to some deals being made. Pitching at the Forum does the service of raising the profile of your project on the international documentary stage.

2. You need both an effective pitch and an effective video. While this seems to be a no-brainer I was surprised by a number of projects that either had an amazing pitch, but the video was unfocused, or the other way around.

3. Have a good logline. It was interesting that the pitches that didn't have a concise logline that succinctly said what the film was about, had the less focused verbal pitches. A good logline is a way to figure out whether you really know what your film is about and can convey it to others.

4. Team work. The panel was very impressed by a presentation in which the team was very practiced and took turns nearly every third sentence in conveying the pitch. They commented on how this indicated that the team worked well together. Personally I though it made the pitch a little too rehearsed - but it was interesting to see its strong effect on the panel.

5. Let the funders talk. Each project only has 15-20 minutes with 7 minutes alloted for the pitch (verbal and video). Some filmmakers spent a long time answering questions beyond what was needed, using up valuable reaction time from the panelists and in fact only getting a few responses in the limited time. Keep your comments pithy and to the point!




---
The Power of Social Advertising
A Case Study on 3100:RUN AND BECOME


I recently sat down with documentary filmmaker, Sanjay Rawal (Food Chains, Challenging Impossibility), to discuss the release of his latest film 3100: RUN AND BECOME. The film is a documentary about endurance and determination which follows participants in the world's longest certified running race - the Self-Transcendence 3100 Miler - as they attempt to shatter boundaries of human possibility. In terms of getting one's film out into the world, Sanjay is one of the savviest filmmakers I know. Since 3100: Run and Become has such a potent niche audience, Sanjay decided that it made sense to pursue a hybrid strategy for this release. What Sanjay wanted to discuss the most - and what he (and I) feel is most relevant for other filmmakers is how he used social advertising to promote the release.



Release background: 3100 Run and Become had its festival premiere at Illuminate in May 2018 and was released theatrically in August of 2018. The film was rolled out to 15 markets over 12 weeks, culminating in New York City (during the marathon) and Los Angeles. 3100 was released on TVOD in the US and Canada in December of 2018 with international sales commencing in January of 2019.

Sanjay started our conversation pointing out the difficulties of getting "earned media" in today's media environment. As a recap, "earned media" is content about your film that is created by someone else on other people's platforms. Reviews by reviewers, feature stories or audience reviews. Traditionally, earned media is what has driven and still drives much of more commercial independent film releases.

But with today's crowded media landscape, getting this coverage is harder and harder. Smaller market papers are eliminating film departments and instead are dependent on syndication from a few major sources. Even new digital media companies are slowing down or laying people off (see Buzz Feed).


Finally, Sanjay noted that traditional media is not setup for slow rollouts of films that benefit many independent releases. Media outlets still favor the large nationwide release.

The flip side of this phenomena is that now it is possible via social advertising to track your ROI (Return on Investment). You are also able to (and need to) use social advertising to promote the earned media that you are able to achieve and promote your own owned media (the media you control and create) through shared media (social media channels and organizations).

Now, for $1 you can get marketing impressions which never would have been possible in the traditional space!

I asked Sanjay to break down some specifics with his film 3100: RUN AND BECOME so we could get a realistic view into how targeted ad spend on social advertising can help your campaign.

First, his film did get some publicity/earned media with online publications such as "Outside Magazine." But unfortunately what they learned was even though they had some great placements, his team still had to spend money to amplify those images and get the media media out to audiences. Sanjay noted that with the decline of print publications, many articles get lost in the shuffle. People used to read magazines cover to cover which would introduce them to smaller stories, but now articles need to be promoted in order to get eyeballs. So even if you do get press - you should be pushing that out through targeted ads (and earned media makes one of the strongest ads since it is validation from a known source).

To aid in tracking ROI you should embed a Facebook Pixel into your website's HTML code, which will then track traffic from Facebook to your website. Facebook will begin creating a profile of this engaged audience that's much deeper than what you could select for (ie, age, sex, location). The Pixel aggregates the entire history of this small set of users to form a target profile, which you can multiply through Facebook look-alike audiences. Sanjay found that with as little as $1500 in ad spend, Facebook was able to develop a look-alike audience in the millions. This wasn't totally perfect all the time, in some cities it worked - in other cities they would have to add audience metrics to hone the results.



You need to also decide what you want your call to action (CTA) to be in the platform as well as what you want the ad to accomplish. If you are in the wide part of the audience gathering/awareness funnel and you want views, FB knows people who will watch. If you want the audience to click on a link - you specify that in the Facebook ad manager etc. If you want people to watch it on Amazon, make sure you have a button in your ad that goes straight to Amazon. For their film trailer, they got over 750,000 views on Facebook. Remember you have to build awareness before you can convert. Often it takes people seeing an ad 3-10 times before they act. That action may not be a purchase, but it might be an add to watchlist, cue, etc.

As noted above you should of course create your own media (owned media). A trailer is no longer enough. You not only need trailers for different audience segments, but you need this content in a variety of lengths. Here are some of Sanjay's owned media for 3100 with some of the metrics:

https://vimeo.com/306098920
This had a 45 cent cost per click thru to our iTunes/Amazon page, with about 200,000 impressions

When they chose to be billed by 10 second video view, impressions went up and their our cost per video view was 4 cents each.

This was highly targeted to people most likely identifiable as Navajo:
https://vimeo.com/306098004

Here's the 15 second Instagram ad (note the vertical orientation): https://www.dropbox.com/s/mz7eeu6mbrjlb88/TRAILER%2015%20sec%20IG%20CM%20quote_1.mp4?dl=0

This had a 20 cent cost per click thru for about 300,000 impressions. FB now has a feature that only bills you if the whole video is viewed.


Facebook vs. Instagram. Facebook will always promote its newest tool. When the 3100 campaign was running, Facebook was promoting Instagram Stories and they realized that Stories were outperforming Instagram Ads, which outperformed Facebook ads. In the end, they pulled most of their money from Facebook Ads and put directly into Insta Stories.

You can geo-target audiences as well as target specific demographics based on what audiences like in Facebook. For instance they were able to target people who like Navajo Times, geo-targeted to northern Arizona. The film did a $5,000 opening box office in Flagstaff, Arizona - which is a lot for Flagstaff Arizona. They targeted only the cities they were playing in avoiding a large national spend. They also targeted cities for theatrical release based on their relative success of their ads. They nixed some cities where their ads were not performing well at all. Because of their strategy and tactic, they were held over in every city they played in except NYC.


3100:RUN AND BECOME was in theatres from August 18th to November 17th on a rolling basis. In the end, their theatrical release earned $80,000 in gross. $65,000 of this was trackable back to their ad spend. This resulted in a net of $37,000. The total costs of booking, publicity, ads for the theatrical was approximately $47,000. As a result they lost $10K on their theatrical but more than made it up in digital.

The film was then released digitally Dec. 12th entirely on transactional platforms such as iTunes and Amazon. They've discovered their sales are 8 to 9 times more on Amazon than on iTunes, so, naturally they've redirected all of their click thru advertising to Amazon. With the digital release they are taking roughly 30% of their net and spending it on advertising. Roughly 25% of that spend is going to Facebook and 75% going to Instagram.

Sanjay had a successful film release by navigating the ever-changing social media advertising space and using a custom crafted distribution strategy. I hope you find his experience helpful as you begin developing your own marketing and distribution strategy!




Cheers!

Jon.
---
A BITTER MESSAGE OF HOPELESS GRIEF SCREENS AT BERLINALE


This week I will be traveling to Berlin Germany to attend the screenings of my 1988 short film, A Bitter Message of Hopeless Grief. The film was selected to screen in the 40th edition of the Panorama section of the Berlin Film Festival, a section that has always included films with the intention to inspire, provoke, and challenge the audience. To celebrate the 40th anniversary, the festival will be screening 40 past films as a reflection program.

A Bitter Message of Hopeless Grief is a fractured narrative featuring large anthropomorphic robots living in their own fictional world devoid of humankind, the machines act out scenarios of perpetual torment, exasperated consumption and tragic recognition. The film is a fast paced glimpse into the disturbing nightmare of machine psychology.

During the 1980's I worked closely with Survival Research Laboratories (SRL) directing four documentaries of their live performances in addition to A Bitter Message of Hopeless Grief. This film was an outgrowth of that relationship. The founder of SRL, Mark Pauline, and I wanted to create a fiction film using the machines to go beyond the restraints of documentation and the traditional utilization of non-human characters in narrative cinema.

For the original shooting we were able to get access to an enormous warehouse in San Francisco which enabled us to create the incredibly large sets (15 feet high – 30-60 feet wide) in order to have enough space to film the machines, some standing 10 feet tall.

In 1988-89, Bitter Message had a nice festival run, in addition to Berlin, it also screened at Sundance, New Directors New Films, San Francisco International, Chicago International, Seattle, Cleveland, Edinburgh, Sao Paolo and more.

I have had great fun these last few months restoring the original 16mm mono film to a beautifully remastered 4K DCP with a 5.1 mix. I had tried doing a conventional telecine from the interpositive but it didn't look as good as I remembered. Ironically for those of you who remember 16mm finishing – I kept the interpositive IP and dup negative DN in pristine shape because back in the day – this is what you needed for telecine and reprints. However when I brought the IP and DN in for the restoration. The people at Roundabout said "this is ok – but don't you have the original cut negative?" I started to freak a bit since I hadn't seen the negative in some years. After much digging we found them in my office attic. I was a bit nervous about the potential for heat damage but when they put the negative on the scanner it looked exactly the same as 30 years ago. Bryan McMahan did an amazing job restoring the color at Roundabout.

For the sound – we had tried remixing the film a number of years ago but were not able to find all the original "voices" of the machines. Matt Heckert and Naut Humon from Rhythm & Noise did an amazing job with the original soundtrack – but it only existed as mono. We fortunately found a 2" multi-track tape that had all the original sounds from the original session. I teach part time at Cal Arts and I was able to get Judy Kim, a super talented Cal Arts grad student to not only reconstitute the complicated sound edit but to create a 5.1 mix as well. I was then lucky enough to have Aidan Reynolds who teaches sound at Cal Arts do the final mix on their stage.

I can't wait to see the "new" A Bitter Message of Hopeless Grief play in Berlin! The film will screen on February 13th at 11am and February 14th at 7:15pm. You can learn more about the Panorama 40 section on the festival's website: https://www.berlinale.de/en/presse/pressemitteilungen/alle/Alle-Detail_46996.html

Film Restoration by
Post Services Provided by ROUNDABOUT ENTERTAINMENT INC.
Digital Intermediate Colorist BRYAN MCMAHAN
Digital Intermediate Editor VAHE GIRAGOL
Data Management RENE CLARK, STEPHEN HERNANDEZ, JOSHUA GOMEZ
Film Scanning JAMES ATKINS
Audio Restoration and 5.1 Mix
Re-recording Mixer and Additional Sound Editing: Judy Kim
Audio Restoration and Additional Sound Editing: Stephan Wunderlich
Additional Re-recording Mix: Aidan Reynolds
Mixed at California Institute of the Arts
COPYRIGHT. Reiss/S.R.L 1988-2018

Cheers!

Jon.