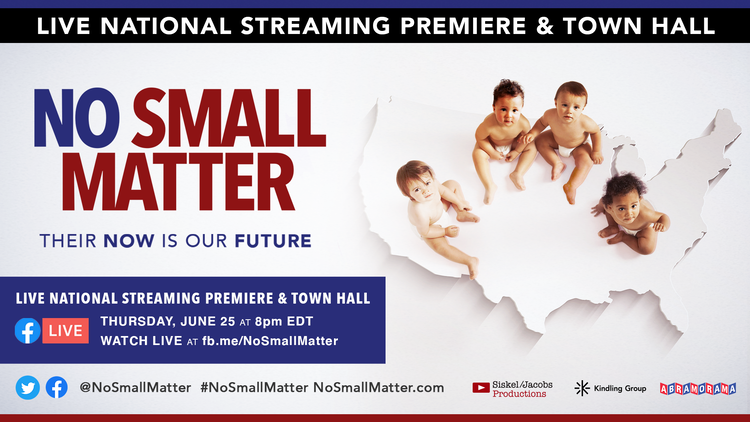 No Small Matter Covid-19 Pivot - Global Screening Event

Since last fall I have been working with the team behind No Small Matter (directors Danny Alpert, Greg Jacobs, Jon Siskel, producer Rachel Pikelny and impact producer/co-producer Laura Fallsgraff) to create a national event to cap their incredible impact focused grassroots campaign that had already resulted in over 1200 community screenings. This massive campaign had been orchestrated by Fallsgraff, Siskel, Jacobs, Alpert and their teams at Siskel/Jacobs and Kindling Group. (The impact campaign is notable for how early and extensively they started working with partners - more in a future post). No Small Matter is a feature length documentary designed to bring the issue of quality early-childhood education to the top of America's political agenda. Illustrating the immense impact that the first few years of life have on a child's development, and the huge benefit that improved early childhood education will therefore have on America's economic and social future, No Small Matter is a heart-wrenching, comedic, and sobering window into the lives of America's youngest citizens.

Originally, the plan had been to work with Abramorama to create a national theatrical release as a way to help the issue penetrate the media landscape as well as help launch the film on VOD through Passion River. We were slated for a March 27th NYC theatrical launch, followed a week later by Washington, D.C. (combining a DC influencer screening with a theatrical) and then going wide to over 50 theaters in the weeks leading up to a mid-April VOD release (eg day-and-week/month). We had planned a number of tentpole events that would have broad appeal panel discussions with widespread organizational support. Many more theaters were organizing with local groups to create special events as well. But then, as we know, Covid-19 hit and we were one of the first films to cancel/postpone our release.

More than a "bummer" (or inconvenience) for the release of the film, the pandemic quickly revealed itself as a crisis for early education in the U.S., a sector which was already on thin ice. "America's early learning infrastructure was fragile even before COVID-19," co-directors Danny Alpert, Greg Jacobs, and Jon Siskel stated. "But the pandemic has pushed it to the brink of collapse. Half of all child care sites have been shuttered, and thousands may be forced to close permanently in the next few months. With no other option but to stay home with their kids, millions of parents will be unable to return to their jobs, paralyzing efforts to restart the economy. What the pandemic has made painfully apparent is that America simply doesn't work without child care."




To respond to this urgent situation, we huddled with Abramorma in April to determine what could both replace the theatrical release and call attention to this problem. It was important to the filmmakers to retain the discussion around child care that the initial theatrical intended to foster. Richard Abramowitz and Karol Martesko-Fenster proposed a one time national digital event screening followed by a town hall with prominent thought leaders on the issue streamed live on Facebook (and cross posted on YouTube and Twitter). The event would not only draw national attention to the issue, but would help launch the broader release of the film to the public on VOD and DVD (yes people and libraries still buy DVDs). In addition we would see if theaters who had originally programmed the film back in March would sign on for a virtual theatrical run day and date with the VOD launch.

Shortly after deciding on this plan the NSM team thought up the idea of starting the night with some children's programming — The Virtual Yellow Room, named for the classroom featured in the film — as a "bed-time" activity before the film that might help parents watch the show.

Karol from Abramorama notes that "this is the first time that there has been an enterprise level international live stream at 1080p to a feature documentary's Facebook page, cross-posted on FB to multiple early childhood organizations and simultaneously streamed to multiple Twitter destinations. The 30+ FB cross-posting organizations and the Twitter destination accounts greatly magnify the reach of the live stream. While that is a first - it is also a first to combine that release with a kid centric 'Virtual Yellow Room,' followed by a live panel discussion and to have a nationwide 'virtual cinema' release day-and-date with a broad consumer VOD release. I can't think of a time when all of these have been combined in this manner."




The Yellow Room and national event streaming (for which you can pre-register here) will begin at 7:30pm EST, and feature entertainment from superstar pre-school teacher Rachel Giannini, 30 Rock sensation Jack McBrayer, banjoist extraordinaire Noam Pikelny, and Olympic gold medalist Kristi Yamaguchi. At 8pm EST the live-streaming premiere will commence, starting with an introduction by executive producer Alfre Woodard. Following the screening, a panel discussion with acclaimed early education experts on America's child care crisis will take place at 9:15pm EST. Some of the important speakers who will be present are Dr. Renee Boynton-Jarrett (Founding Director, Vital Village Network), Amanda Perez (Senior Advocacy Manager, ZERO TO THREE), Reggie Bicha (Executive Director, Shine Early Learning), and Brigid Schulte (director of the Better Life Lab at New America), who will be moderating the panel.

In addition, the live streamed event will include pre-recorded statements from a host of policy-makers devoted to the early childhood education cause, such as Gov. Mike DeWine (OH), Sen. Dick Durbin (IL), Rep. Lauren Underwood (IL-14), Rep. Tom Cole (OK-4), Rep. Deb Haaland (NM-1), Rep. Katherine Clark (MA-5), and Rep. Rosa DeLauro (CT-3).

All of the organizational outreach (another blog post) that the NSM team has conducted for the past five years is paying off with participation from key partners. The National Association for the Education of Young Children (NAEYC), ZERO TO THREE, Child Care Aware, United Way Worldwide, and Save the Children Action Network are co-hosting the event, presented with support from the Buffett Early Childhood Fund, Bezos Family Foundation, Imaginable Futures, Vanguard Strong Start for Kids Program and Bainum Family Foundation. A total of 85 of organizations are promoting the event and subsequent VOD release.

In addition to the organizational support, Falco and PR Collaborative are handling press (not only entertainment but educational press) and Bruce Kircoff and Jessica Schneider of 1113 Collective are handling social advertising for the event and VOD/DVD release. Take a look at the event page they created which has the social tool kit built in. Throughout the post are samples of the social graphics they created.

Right now Eventbright reservations are over 7000, with an additional 3700 indicating "interested" on Facebook. With everything going on in the world now, it is hard to get people's attention, and especially hard to get people to show up at a specific time and devote nearly three hours of their time. It will be exciting to see how this technology works and the effect that these combined efforts have. Sign up and join me in watching and I'll keep you posted on the results.